2020 Essential Outdoor Camping Gears List for Outdoor Camping
By - SpocampSports
15 August, 2020
When going out for camping, outdoor camping gears are always need to be taken. A good or bad camping experience is decisive on what you packed (or didn't pack) for the trip.
What outdoor camping gears you take during the camping will depend on the type of trip taken. You may need to understand your destination, the type of travel, and how many people in your group, weather conditions, etc.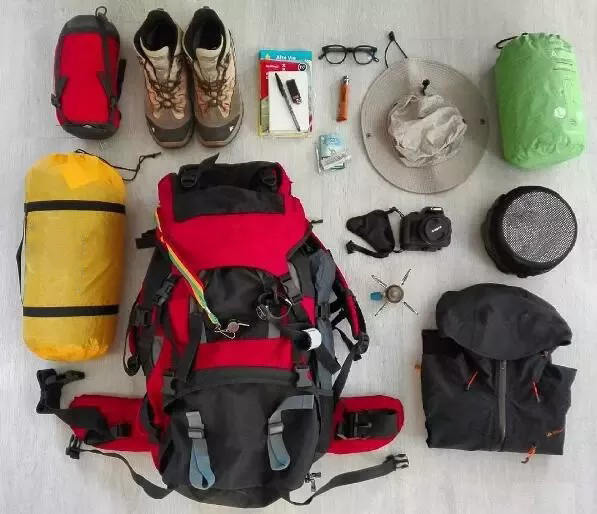 If it is just a short time/distance hiking, you can just take a few essentials, lightweight gear etc. You may carry only the essentials and only the lightest and most comfortable outdoor camping gears that you needed.
If you are planning a car camping or family camping, then you will have to took everything but the kitchen sink. You will need to fully prepare outdoor camping gears, get ready for everything. Otherwise you may have nothing to use or have to go back your home to pick them back again.
The following is a brief list of outdoor camping gears you will need. According to different camping type, some items you may not need. Also, you have to know about each item, especially your tent, sleeping bag, stove etc. Different item types suit for different camping type.
First part, outdoor camping gears for safety and emergency use.
1). Firelighters;
2). First Aid Kit / paracetomol / ibuprofen;
3). Contact list (emergency, family member number etc.);
4). Torch Light, (extra batteries or Torch / Dynamo Torch);
5). Map;
6). Compass;
7). GPS;
8). Matches or lighter;
9). Hatchet;
10). Insect repellant;
11). Sun protection cream;
12). Mobile charger or power bank;
13). Scissors;
14). Swiss Army Knife;
15). Headlamp;
16). Communication gadgets;
17). Rope;
18). Binoculars;
19). Trekking poles;
20). Hook/carabiner;
21). Multi Tool Kit;
22). Personal ID;
23). Personal medication if needed.
The second part, outdoor camping gears for cleanliness use.
1). Toilet roll / kitchen roll;
2). Toiletries bag / wash bag;
3). Toothbrush, toothpaste, shampoo, etc.;
4). Razor;
5). Washing powder;
6). Washing up liquid;
7). Wet wipes;
8). Mini mirror;
9). Bin bags;
10). Extra sanitary towels (for ladies);
11). Extra nappies (for baby).
The third part, outdoor camping gears for cooking and eating.
1). Outdoor camping stove and stove gas;
2). Saucepans / pots / spatula / plates / cups /containers / storage;
3). Chopping knife and chopping board;
4). Knife / fork / spoon / corkscrew (if there is a bottle of your favorite tipple);
5). Dish cloth / tea towels;
6). Cooler box;
7). Water filter;
8). Thermos flash (for a cuppa);
9). Kitchen foil/cling film;
10). Water container
The fourth part, outdoor camping gears for wearing.
1). Waterproofs;
2). Rain cover;
3). Hiking boots (suitable footwear);
4). Hat and sunglasses;
5). Sun-protection cloth;
6). Breathable jackets;
7). Beachwear / swimwear;
Fifth part, outdoor camping gears for sleeping / resting.
1). Tent;
2). Pegs;
3). Camping sleeping bag;
4); Camping mat;
5). Pillow;
6). Extra bedding;
7). Mallet;
8). Foldable table and chairs;
9). Sun lounger.
Sixth part, outdoor camping gears for fun.
1). Camera;
2). Books;
3). Fun games;
4). Playing cards;
5). Football;
6). Frisbee;
7). etc…
Despite the fact that adventures depend more on our attitude instead of our equipment and essential gears, the selection of perfect outdoor camping gears can have a significant effect between having fun and suffering.
Although different camping type has different requirement about the outdoor camping gears, there are still some basic outdoor camping gears are commonly needed for every kind of outdoor camping activities. Let's specifically discuss about these usually needed outdoor camping gears.
1. Outdoor camping tent.
Outdoor camping tent is the most essential outdoor camping gears for most camping, trekking, backpacking, etc. Outdoor camping tent help you sleep and rest well after a long day hiking, protect you from the unpleasant weather. It is better to choose a high quality, more durable, easy install outdoor camping tent. Also, you may need to consider the space of the tent if there are friends, family members camping together.
2. Outdoor Camping Sleeping Bag.
Sleeping bag is important outdoor camping gears during your camping. You may get cold during the night. So having a sleeping bag will make you stay warm during cold weathers. Going without a sleeping bag risks an uncomfortable night's sleep.
3. Outdoor camping sleeping pad.
(View details of this outdoor camping sleeping pad)
A sleeping pad can make or break a good night's sleep for you. You can use a piece of foam to put between your sleeping bag and the floor of the tent to add a little more padding. Also, you can go to an outdoor camping gears store to find a high level sleeping pad.
Optional outdoor camping gears: Pillow
Different kind of sleeping bag may or may not have a built-in pillow. If you're backpacking, you may not want to carry an extra pillow with you. You can fold up some clothes to put under your head as a makeshift pillow instead. If you're car camping, bring a pillow from home.
4. Outdoor camping stove.
If it is two days or multiple days camping, stoves are important outdoor camping gears. You can decide to bring the stove size according to the number of people you are hiking with. If you just need to cook food for yourself, then a small size stove is enough. If you're making food for a group, you will need something a little bigger. We advise you a Outdoor Camping Stove Gas burner Foldable Hiking Stove as shown on the above photo. The camping stove body is divided from gas cartridge to pursue higher safety. It can saves fuel and increases burning efficiency. With piezoelectric ceramic ignition, starting fire easily. Moreover, this outdoor camping stove has a strong bracket for stable support. In addition, it comes in a box for convenient storage and carry. This is truely one of the most useful and worth to buy outdoor camping gears.
5. Matches or a Lighter.
Matches or lighter are extremely important outdoor camping gear. You can choose waterproof matches or a dependable windproof camping lighter (refillable lighter will be even better).
The matches or lighter may seem like a small thing, but it is really important. Without it, you may not able to light a fire or your stove while you're camping. Then it will be a big problem.
6. Water or water filtration system.
Water, without any argument, is the first thing you need to bring with when you are going out for camping. Therefore, a water bottle (filled with water) is essential outdoor camping gears. Also, you can investigate your camping place if there will be water available or if you'll have to bring your own. Most campsites have potable running water, or at least a pump where you can get water to filter yourself. If not, be sure to bring plenty of drinking water to keep everyone hydrated and to use for cooking. If you're going for backcountry camping or backpacking, you may have to solve the water problem by yourself.
The above are just a brief list of outdoor camping gears. Actually, whether you really need each of them or not will depend on the camping type you are planning. Also, each essential outdoor camping gear may also have several different types suitable for different camping type. You may need to learn them separately if you are not very familiar with.
Taking your outdoor camping gears for a weekend backpacking adventure is not a hard thing. There are plenty of places to go. Remember to bring these essential outdoor camping gears with you when you going out for camping or backpacking.